It isn't often I review individual comic books, but in the case of All Star Western #34, a comic which features one of my all time favorite DC Comics characters, Jonah Hex, I had to make an exception.
Created by writer John Albano and artist Tony DeZuniga back in 1971, Jonah Hex made his first appearance in issue #10 of the original All Star Western series, which would become Weird Western Tales before Jonah Hex moved on to his own book.  Before that move, he was featured in one of my all time favorite comic book covers, that of Weird Western Tales #25.  See for yourself:
While John Albano wrote the early stories featuring Jonah Hex, it would be Michael Fleischer who would come in shortly afterwards and write the vast majority of them throughout the 1970's and into the 1980's.  His stories were very consistent and even today are a pleasure to read.  Perhaps one of the most intriguing stories he ever wrote featuring the western anti-hero appeared in DC Special Series #16.  In that story, a 66 year old Jonah Hex meets his fate…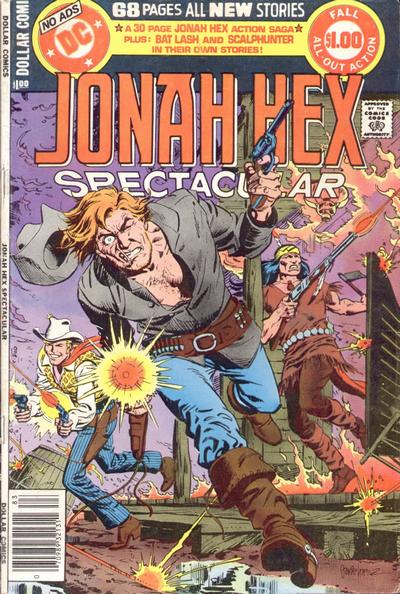 This story proved alternately grim and sad, with the corpse of Jonah Hex being stuffed and put on display in a carnival show (I suspect this was the inspiration for the sequences featuring Tonto in a carnival in the Johnny Depp starring Lone Ranger film that was released last summer).
Despite this very final story, Jonah Hex would continued to appear in one form or another since that (in)famous story, including appearing in animated form in the Batman series as well as "real life" in the awful 2010 Jonah Hex film.  What a wasted opportunity that was!
In more recent times and since 2005, writers Justin Gray and Jimmy Palmiotti have been writing Jonah Hex stories, first in the "new" Jonah Hex series and then for 34 issues in the "new" All Star Western.
Given their nearly decade long association with the character, it is a tribute to their talents that the volume of stories they've presented have been so damn good.  Yes, there have been some lesser fare here and there, but their run, overall, is nothing to be ashamed of and I figured they would go on for a long, long time.
So it was something of a surprise to find that All Star Western #34 is pretty much what the title of the story says it is: "End of the Trail."  It proved to be Mr. Gray and Palmiotti's final Jonah Hex story and was illustrated by the terrific Darwyn Cook.  Was it good?  More than good.  I would say it is terrific…but with one rather big caveat.
What is the caveat?
To understand this particular finale story, one really should read/be familiar with the Michael Fleischer final Hex story I wrote about above.  Mr. Gray and Palmiotti's finale plays with the Fleischer finale, offering a different take while never quite negating (entirely) what Mr. Fleischer wrote.
Now, like all things, the comic book industry operates on profits and losses and while clearly DC was finishing the Jonah Hex series with this issue of All Star Western and probably didn't want to spend more money than they had to on it, I really wish they could have reprinted the Fleischer story with this finale.
While I think readers who aren't familiar with the Fleischer finale will enjoy it, they will enjoy it far, far more if they are familiar with that particular tale.
In the end, I highly recommend those who have even a passing interest in Jonah Hex give All Star Western #34 a look.  And while you do, try to dig up a copy of that Michael Fleischer Jonah Hex finale.  You'll be glad you did.