Yesterday it was revealed that President Trump, while delivering a speech for Turning Point USA, a college Republican group, a doctored Presidential Seal appeared behind him…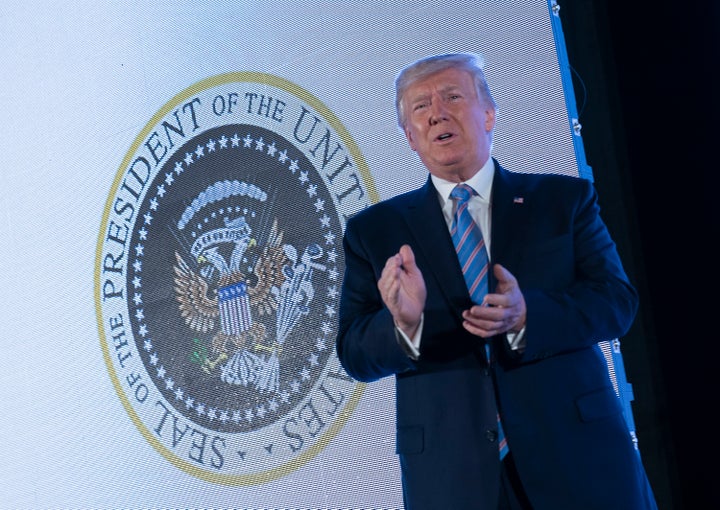 For those who can't see the Seal very well and are unfamiliar as to how the real one, here ya go. The fake seal is on the left:
A closer look at the fake:
Among the things to note: The two-headed bird at the center of the fake seal is a Russian Imperial symbol. The bird holds golf clubs (!) in its left claw while grasping money in the other. "45 es un titere" is Spanish and, translated, states "45 is a puppet".
You can read more in this article by Hayley Miller and published at Huffingtonpost.com…
Trump stood in front of Presidential Seal doctored with Russian symbol, golf clubs
At first Turning Point USA tried to brush this off by saying that someone simply made an error and took a picture off the internet and didn't realize it was a fake and slapped it on the screen behind Trump.
Yeah, right.
Later on it was stated the one responsible for this "error" was fired.
This was no error. No how no way. You have to search quite a bit online to stumble upon this image and, along the way, you'll find plenty of high quality graphics showing the actual Presidential Seal.
No, this was someone sticking it to Trump in front of a welcoming crowd. It also shows why Trump, IMHO, is in trouble as a candidate: Now people who supposedly are with him are mocking him.
It's one thing to be feared. It's quite another to be ridiculed.