If you're into comic books at all, the two names I posted in the headline should be well known to you.
For those who aren't into comic books, it's fair to say these two were among the titans of the comic book art community and their passing is cause for great sadness.
Neal Adams burst onto the comic book scene in the late 1960's with a style of artwork which seemed to take the power of the late Jack Kirby but merged it with a more "realistic" style.
His first jobs at DC comics generally involved doing covers, though eventually he gravitated to some supernatural stars, including Deadman…
…as well as The Spectre.
The folks at DC comics got real smart and, together with writer Denny O'Neil, the two would go on to what is perhaps their crowning achievement, taking the character of Batman -who at the time was mired in the more campy, Adam West TV show-esq pattern- and play him far more straight… and scary.
Neal Adams had a knack for mixing his superheroics with gothic and supernatural elements, and this fit the character of Batman incredibly well.
Perhaps the highlight of Neal Adams' work on Batman, though, did not feature such gothic elements, but was rather his -and writer Denny O'Neil's- reinterpretation of what is Batman's nemesis, the Joker.
While Batman had become softened with the Batman TV show, The Joker had also become a far less "dangerous" criminal. As presented on the show, he was a literal clown, laughing and carrying on and never really all that scary. Neal Adams, along with author Denny O'Neil, changed that with the classic Batman #251.
But Neal Adams' work wasn't limited to simply making Batman -and his villains- scary again. He, along with Denny O'Neil (again) created the villainous Ra's Al Gul, who would be featured in the first Christopher Nolan directed Batman film. The character's daughter, Talia, was also created by the team and she would appear in the third and last of Nolan's films…
The team of Denny O'Neil and Neal Adams would also collaborate on the Green Lantern/Green Arrow comic, which was one of the very first comic books to deal with societal issues…
Perhaps the most famous sequence from their run in this series is this one, which addresses the issue of racism…
Neal Adams would work for Marvel comics as well. During the time he was working at DC he reinvigorated a moribund Marvel franchise which looked like it would wither on the proverbial vine and be completely forgotten. I'm referring, of course, to The X-Men…
His run on this series would inspire others to follow and enhance his work, including artist/writer John Byrne who, early in his career, very obviously emulated Adams' style.
In the 1970's Adams' comic book work lessened, though in the later 1970's he co-wrote, plotted, and pencilled what I consider the best Superman story ever created, Superman vs. Muhammad Ali…
To be very clear, the concept of this comic sure did seem, even back then, silly as hell, even for a much younger me. But damn if Neal Adams didn't deliver the goods, creating a story that drew you in and wowed you with its power and humanity.
During the 1970's Neal Adams was also a loud voice for artist's rights, shaming DC comics into giving a stipend to Superman creators Jerry Siegel and Joe Shuster -both of whom had been discarded by the industry by that time and who were in financial need- on the eve of the release of the Superman movie and was also instrumental in getting artists their original artwork back, so they might sell it and gain some money for it.
Neal Adams would spend the 1980's and much of the 1990's doing less work for the big companies and releasing self-published works. In more recent years, he returned to Batman, Deadman, and Ra's Al Gul for limited series. While those series to my eyes didn't quite recapture the glory of prime Neal Adams work, they were welcome additions to my library.
He accomplished so much in his career and he will be missed. Mr. Adams passed away on April 28th, 2022.
****
Two days ago and on May 6th of 2022 the comic book industry would receive another shock: Artist George Perez passed away.
Mr. Perez became one of the bigger names in comic books in the generation of artists who followed Neal Adams. His first published work would appear in Marvel's Astonishing Tales #25, in a backup parody of the main feature, which introduced the character of Deathlok…
From such humble beginning Mr. Perez would draw some of Marvel's greatest heroes, including the Fantastic Four…
…and the Avengers.
What distinguished Mr. Perez from many other artists was his love of shoving as many characters and background as possible (or what seemed impossible!) into his pages. He had such a love of the characters that he would show readers as many as he could fit, all lovingly detailed.
In the early 1980's he moved from Marvel Comics to DC comics and it was there he arguably had his biggest impact on the field, starting with his work on the Justice League of America.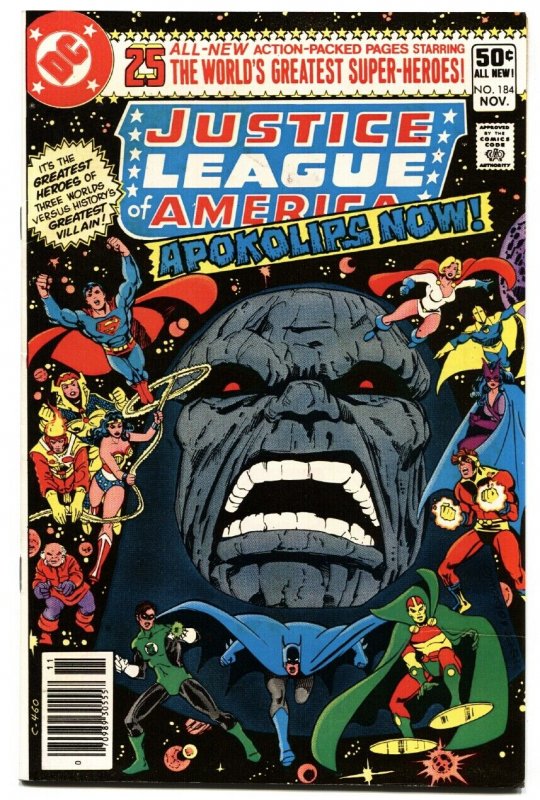 But it would be his work, alongside writer Marv Wolfman, that would truly set him up as the premiere artist of that decade, starting with their work on The New Teen Titans…
Many fans at the time felt Wolfman and Perez were simply "copying" the success of Marvel's X-Men but the series became very much its own thing and was successful as such.
Wolfman and Perez, though, had another card up their sleeves…
Crisis On Infinite Earths was an incredibly ambitious twelve-issue series first released in 1985. The goal of the series was to trim down the multiverse aspect of DC Comics (for the record, I feel that proved in the long run to be a mistake, from a storytelling point of view) and try to streamline the DC universe.
While I had my issues with the end result of the series' story, there was nothing at all wrong with Mr. Perez's magnificent artwork. The twelve issues of Crisis allowed Mr. Perez to draw virtually every single character in the DC universe, from incredibly minor to very well known, along with creating a few new characters along the way.
I seriously doubt there is any other artist, alive or passed, who could have accomplished what he did in this series without either going completely crazy or taking years of extremely hard work to achieve.
It seemed Mr. Perez had reached his pinnacle. However, there was still one other major accomplishment to come, the Marvel and DC crossover event he longed to do his entire career, Justice League vs the Avengers…
While they were publishing rivals, there were occasions Marvel and DC Comics would allow special event crossovers. They did this twice with Superman meeting up with Spider-Man, Batman with Hulk, and Justice League going up against the Avengers in the limited series published between 2003 and 2004.
George Perez had first been approached, and delivered a few pages for, a JLA/Avengers team up book but it was torpedoed before it was published. He would get his chance to do this again some twenty years later and delivered a magnificent product.
As if he was capable of not doing so!
Sadly, Mr. Perez would suffer from various health issues which limited his ability to continue working on his beloved comic books. A couple of months ago it was announced he was suffering from stage 3 cancer and knew he had a limited time left. Marvel and DC, magnanimously, allowed the JLA/Avengers series, collected in a TPB, to be republished to help Mr. Perez and his family with their medical and other bills, though it seems the limited nature of this reprint allowed speculators to blow up the resale price of the book and… yeah, greed can do bad things to people.
I never got to meet either Neal Adams or George Perez and now, I never will and that's a real shame.
Two titans of the comic book industry passed away a mere week apart.
Such a sad series of events, even as their works ensure we will enjoy their talents for years to come.