In what is sure to create further controversy, director Zack Snyder, when asked about the fact that he had Batman kill in Batman v Superman: Dawn of Justice, made some rather strong statements concerning this topic.
As written by Charles Pullman-Moore and presented on i09.com, the article's title will give you an idea of Mr. Snyder's thoughts on that subject:
Zack Snyder wants you to "Wake the fuck up" and accept that Batman kills people
Part of what made BvS so controversial was its generally grim tone and, yes, the fact that Batman sure does seem to murder a bunch of bad guys in the film.
To be fair, he does so because they are very actively trying to murder him, so its not like he's simply shooting them in the back when they're, say, loading up some questionable merchandise inside a van or something.
But it does bring up an issue I personally have wrestled with concerning heroes: Should they kill?
James Bond, famously, had a "license to kill". As presented, one would think that he would have no qualms doing what I proposed above, ie killing a badguy no matter what they were currently up to. If they're loading a van or taking a walk on the beach, if British Intelligence views the person as a major danger to England/the World, and he has a "license to kill", one could theoretically understand that if it is imperative to kill the badguy, you do so, no questions asked.
Clint Eastwood's many "heroes" were often darker as well. Starting with the so-called "spaghetti" westerns of the 1960's and going on to Dirty Harry in the 1970's and 80's, you had a darker variation of the "good guy" who might well shoot a badguy, whether while confronting said individual or offing them when they weren't necessarily a threat to you at that moment.
But what about superheroes? What about heroes that aren't supposed to be so damn dark, character-wise? Batman, while indeed a "dark" character, has been portrayed very often as not wanting to use a gun, though in his very earliest comic book appearances did indeed do so, and did indeed kill badguys…
The above opening page of a story shows Batman with a weapon. Here, he uses it… albeit to kill a vampire:
Here he uses not just a gun, but a machine gun, to off some badguys…
Note what Batman says in the above panel: "Much as I hate to take human life, I'm afraid this time its necessary!"
So, yeah, early, very early Batman could be as merciless in killing badguys just as his primary inspiration, the pulp hero The Shadow, did as well…
But very soon after Batman's first appearance in Detective Comics #27 in 1939 and in issue #38 of Detective Comics, Batman was given a partner, the dashing Robin…
I think its arguable that the introduction of this character put Batman over the top and sealed his transition from a superhero version of The Shadow into something new and exciting to audiences. Suddenly readers had an avatar, a young daredevil they could grasp and, vicariously, have their adventures through.
The tone of the Batman stories from that point on grew lighter and lighter, and Batman no longer mercilessly killed the badguys (though there were some "accidental" deaths still to come) until, soon enough, it was established that Batman DID NOT KILL, period.
In the late 1960's and into the 1970's, darkness crept back into the Batman character. The fine work of writer Dennis O'Neil and artist Neal Adams redefined the Batman character and brought us a version closer to what came early on, though the character still did not use weapons and still did not murder the badguys…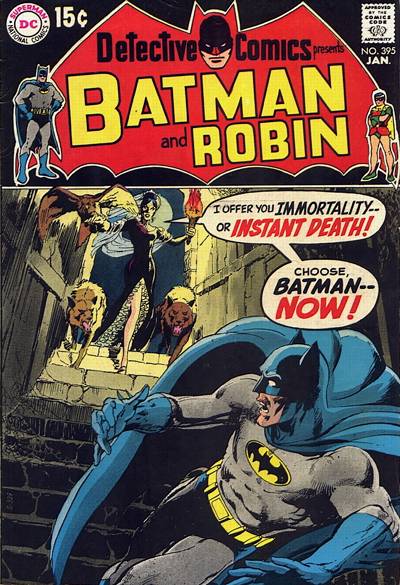 And so it was, roughly, a short time time later I first became familiar with these various characters.
In my very young mind, I felt that superheroes did NOT kill. If anyone perished in the course of a story, the hero tried their best to not kill anyone, even if they were despicable in their actions and very much deserved that fate. Heroes were, IMHO, people who found ways around such actions.
Then came Population Zero, the first episode of The Six Million Dollar Man's regular series, first aired on January 18, 1974, and this terrific, and confusing to my very young mind, ending…
The plot of the episode, to be frank, was something of a rip off of Michael Crichton's The Andromeda Strain. In that novel (and subsequent film adaptation), an entire small town is suddenly found dead with two exceptions, and it turns out some intergalactic virus is to blame… and this bug needs to be neutralized or it might spell the doom of the human race.
In Population Zero, the villain uses a sound machine (as you can see from the video) and it turns out the scientist behind it lost funds for his project because of the Bionic Man project. He obviously harbors deep anger and is determined to show that his weapon should have been given the proper funds. In the meantime, he tries to kill off the Bionic Man and then Oscar Goldman and the entire army base outside the town he initially attacked.
Steve Austin, the Bionic Man, gets away from his deathtrap and runs to where you see him. He realizes the mad scientist will kill a lot of innocent people and pulls up the metal fence post and, using it as a javelin, spears their truck, killing the scientist and his henchmen.
This really messed with my mind back then.
For it seemed to me Steve Austin could have run over to the truck and, I dunno, turned it over or something. He could have thrown the javelin at the electrical cables the bad guy was using to charge up his weapon and therefore rendered the sonic weapon inoperative.
No, he deliberately targeted the truck and by spearing it caused it to explode and kill everyone.
I've defended Batman v Superman more times than I care to and still believe this film will experience a re-evaluation in time and come to be viewed as far better than the early critics and fans felt it was.
And I have little problem accepting that Batman kills the bad guys both when he chases them in his Batmobile and later on when he's trying to save Martha Kent.
Why?
Because if you truly, truly think through both scenarios, he's quite literally fighting for his life. In the first scenario he's being shot at with heavy weaponry. A lucky shot and his vehicle -and himself- is toast. It's a high speed chase and very dangerous to not only Batman, but to anyone else who might be around that dock area.
Should Batman aim for the tires? Sure, but realistically, that a damn hard shot to make.
In the warehouse fight, the same applies. It's one guy against a large number. In "real life" you need to take these dudes out and quick because if you don't, you may die. So Batman can't play nice while the bad guys here are using guns, knives, and whatever else they have to take him out. He has to fight back.
Hard.
Still, the little boy I was does feel a certain apprehension about the idea of a good guy, especially a superhero, resorting to killing and, at least in my stories, I've tried to show the consequences of killing (particularly in Mechanic) while also trying not to have my characters depicted as favoring killing first to deal with bad guys.
There truly is no answer, I suppose, and your opinions on this matter will certainly be guided by the literature/stories/TV shows/movies you've grown up with.