Over the past weekend news came that legendary actor Kirk Douglas had passed away at the age of (believe it or not) 103.
One of his first great roles was that of Whit in the incredible and classic 1947 film noir Out of the Past. According to IMdb, the role was his third in a movie. The above photograph shows Douglas with the movie's protagonist, Robert Mitchum (for whom this was also quite the star making role).
Kirk Douglas would go on to make a tremendous amount of really good -and some not so good, but them's the breaks- films. Some of my favorites, and films I highly recommend you seek out if you haven't already, include Ace in the Hole (1951) Detective Story (1951), 20,000 Leagues Under the Sea (1954)…
…Lust for Life (1956), Gunfight at the O.K. Corral (1957), Paths of Glory (1957, probably the film that first made people take note of young director Stanley Kubrick), Spartacus (1960, the second and last Kubrick/Douglas team up), Lonely Are The Brave (1962, the film Douglas felt was his best work), Seven Days In May (1964, one of several features Douglas made with Burt Lancaster -which includes Gunfight at the O.K. Corral, and, IMHO, one of the best), The War Wagon (1967, a personal favorite, a mostly comedic "heist" film set in the wild west and featuring another star Douglas made a couple of films with, John Wayne), The Fury (1978, a fascinating if not quite great Brian DePalma directed film that recalls his previous Carrie adaptation), The Villain (1979, a comedy featuring… Arnold Schwarzenegger?!)…
…Saturn 3 (1980, a not all together successful film yet the visuals are fascinating and the story quite gory for its time), and The Final Countdown (1980, a fascinating time travel story)…
These are just some of the many films Mr. Douglas was in that are worth your time, IMHO, and don't include such works as One Flew Over the Cuckoo's Nest, which he bought the rights to and wanted to make a film version of (starring himself in the titular role). Eventually, Mr. Douglas would give the rights to his son Michael Douglas, who would make the film with Jack Nicholson and the rest is history.
So he's made a ton of great works but there is some controversy regarding Mr. Douglas. There is the accusation -and its nothing more than that- that he had an inappropriate encounter (and that's putting it very mildly) with an underage Natalie Wood. At this point in time it is an allegation and nothing more and should be treated as such.
However, in his first novel, The Ragman's Son, Mr. Douglas isn't terribly shy about writing about his sexual encounters with many, many, many women. While I don't believe I'm a prude, the book struck me, especially as he recounted his sexual conquests, too boastful. And it occurred to me that some of the women he mentioned in the book maybe didn't want this splattered for everyone to read. It left me with something of a bad taste in my mouth.
As the saying goes, love the art but not the artist and it was after reading that book that I realized maybe it was better to not know so much about an artist whose work I enjoyed so tremendously.
By the way, of the "golden age" big name actors out there, I believe there is only one left alive: Olivia De Havilland. Like Mr. Douglas, she too was born in 1916 which also makes her 103.
Soon after news of Mr. Douglas' passing, we heard that actor Robert Conrad had also passed away.
Mr. Conrad, perhaps best known for his role of Jim West in the terrific The Wild, Wild West (1965-69) TV show which was subsequently made into a disastrous feature film with Will Smith in the title role, was known primarily for his TV roles.
He first became well known for the TV series 77 Sunset Strip and Hawaiian Eye before The Wild, Wild West. In many ways his look back then reminded me of a far more buff version of James Dean. Robert Conrad was an exercise nut and his physique showed it…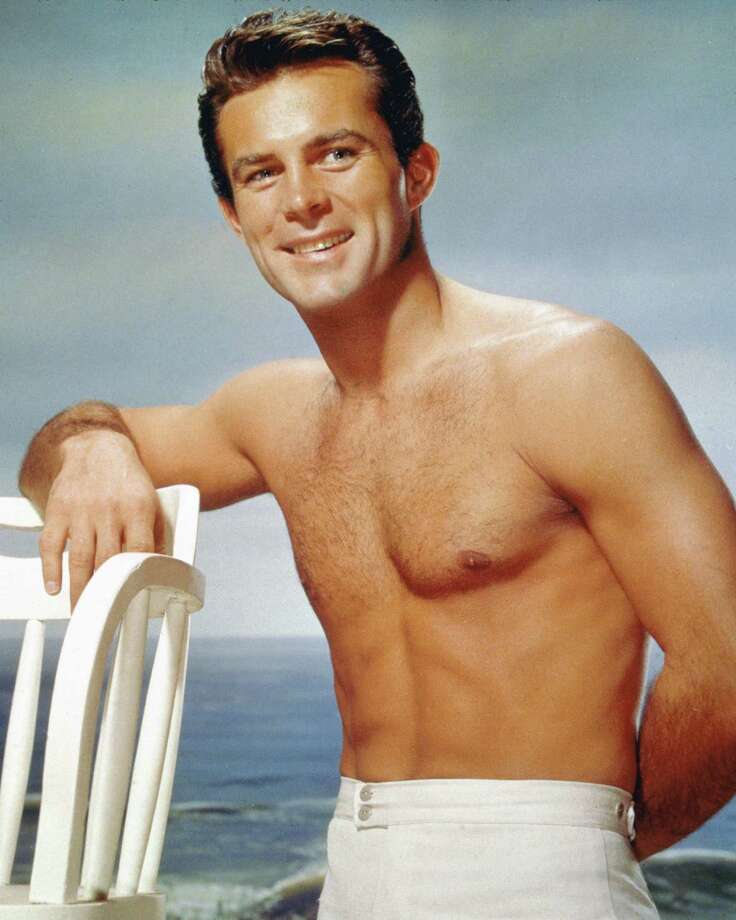 He would go on to play guest starring roles in plenty of TV shows afterwards, from Mission: Impossible to Columbo to Mannix before once again hitting upon a popular TV show in the form of Black Sheep Squadron (1976-78).
He was also quite good in the role of Pasquinel in one of the first big "mini-series" made for TV, Centennial.
Robert Conrad would return to playing Jim West in two made for TV movies, The Wild, Wild West Revisited (1979) and More Wild, Wild West (1980). Alas, both films IMHO weren't all that good, going for camp and goofiness and squandering the opportunity to see some genuine heroic goodness…
What also hindered the movies, IMHO, was the fact that while only some 10 years had passed since the last episode of the original Wild, Wild West, both Robert Conrad and Ross Martin (who would pass away in 1981 and shortly after the second and last film was made) looked rather old to be doing the stunt work the show was so famous for in their prime.
Mr. Conrad would play in many other roles through 2002 and I found him quite funny parodying his "tough guy" image in battery commercials…
…as well as in the role of the gung-ho to go to war General Wombat in the Sean Connery film Wrong is Right (1982) and the super-no-nonsense police officer in the 1996 Arnold Schwarzenegger film Jingle All The Way.
Robert Conrad, like Kirk Douglas, appeared to have his quirks. His appearance as the Team Captain on the otherwise fluffy Battle of the Network Stars (1976) revealed his competitive nature in these silly games was… out there. Further, I recall seeing interviews conducted with him where he seemed incredibly, perhaps over-the-top intense.
Maybe they caught him on bad days?
Regardless, Mr. Conrad passed away at the ripe old age of 84 and lived, I imagine like Mr. Douglas, a very full and successful life.
While the passing of both of these actors, given their advance age, was expected, it is nonetheless a sad occasion.
At least their wonderful works will live forever.
Rest in Peace, big guys. You gave me plenty of pleasure throughout your lives.